---
2016 Program Dates: July 10 - July 30
---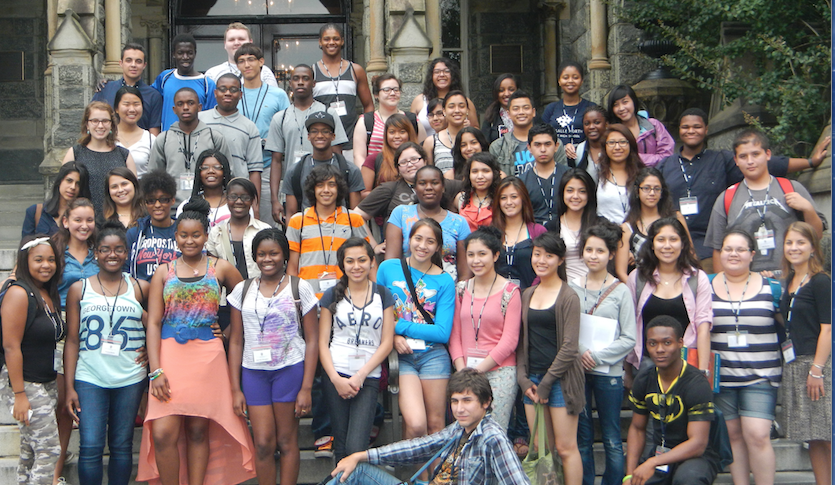 Program Description
The Georgetown University Summer College Immersion Program is a three-week college preparatory program for rising high school seniors from the Cristo Rey Network and KIPP Foundation school systems. Every July, 44 students from across the country meet at Georgetown University to begin their college careers. During the three-week program, students complete workshops on admissions and financial aid, take part in campus visits to other local universities (e.g. University of Maryland and Howard University), live in residence halls, interact with Georgetown University students, explore Washington, D.C., and take courses in Forensic Science, Biology, Physics, and College Writing with Georgetown faculty. The program is designed for high-achieving high school students who have aspirations to apply to the most selective colleges and universities.
Students of the Cristo Rey Network and KIPP Foundation school systems interested in the program should speak with their school principal or college guidance counselor. The top two students from each school may be selected to apply. Applications are not a guarantee of attendance. This is a highly selective program.
Application Procedure (Note: 2016 Application is OPEN)
All applications for this Summer College Immersion Program will be accepted only through the online system.
Gather the necessary contact data for the applicant, the parent/guardian, and the college counselor/school administrator, and recommender.

Type all short answer and essay responses into a word or PDF document and upload directly into the online system.
Request your recommender to prepare his or her statement using the prompts below. Once you submit the application, the recommender will receive an email with a link to copy and paste his or her response directly into the application.
Request official transcripts to be mailed to the address below (this portion of the application is the only portion NOT online). Transcripts should also include any PSAT/SAT/ACT test scores.
The online application deadline is: Saturday, February 20, 2016
All applications must be submitted and transcripts received by this date. Late applications will not be accepted.
Send official transcripts and test scores to:
Cristo Rey/KIPP Georgetown University College Immersion Program
640 Massachusetts Ave., NW
Washington, DC 20001
---
| | |
| --- | --- |
| The application deadline for the Summer College Immersion Program is February 20, 2016. | |
---
Program Experience
The Summer College Immersion Program is designed to be a transformational learning experience for students. The following videos capture the student experience:
Funding
Funding for the Georgetown University Summer College Immersion Program comes from the Georgetown University School of Continuing Studies. All students accepted to the program travel, live, and learn at no cost. Students successfully completing the three-week program will receive a $400.00 stipend.
Who Attends?
The top two rising seniors from each school within the Cristo Rey Network and KIPP Foundation are selected through their respective schools to apply. All have strong GPAs, significant extracurricular involvement, and a passion for leading purposeful lives.
The Georgetown University College Immersion Program seeks to employ Georgetown undergraduates and recent graduates to serve as mentors for the high school students enrolled in the program. Mentors will assist the Program Director and Assistant Director by leading reflection exercises, accompanying students on field trips, workshops, and leadership exercises, and acting as friends and advisers to the students.
Mentors will have the option to live (at no cost) in Georgetown University dorms along with the students, but will not be on duty during the night and will not have any responsibilities associated with a resident assistant (RA).
Protection of Minors Policy
Georgetown University has a Protection of Minors Policy to protect those under 18 years of age who participate in programs and activities associated with the University and to provide guidance and requirements that apply to University students, faculty and staff who are involved with such programs and activities. The policy also includes requirements for non-University organizations that operate programs or activities involving minors on campus. Additional information about the policy may be found at protectionofminors.georgetown.edu.